JUST CAUSE 4
https://store.steampowered.com/app/517630/Just_Cause_4/
XXL Edition


The Just Cause 3 XXL Edition packs the critically acclaimed Just Cause 3 game as well as a great selection of extra missions, explosive weapons and vehicles to expand your experience in Medici. This ultimate edition of the game will please newcomers who want to jump into all of Rico's missions with a boosted arsenal and exotic new vehicles.

This pack includes the following items:

Just Cause 3

Air, Land and Sea Expansion Pass

Weaponized Vehicle Pack

Explosive Weapon Pack

Reaper Missile Mech

Kousavá Rifle
Reviews and Accolades
9.5/10 "Just Cause 3 may be the only recent release that truly qualifies as a sandbox" - Forbes

9/10 "Just Cause 3 is probably the most goddamn fun I've had in a game this year" - US Gamer

9/10 "Spectacularly Destructive" - GAME REACTOR

8/10 "A wide-open playground primed for explosive action" - IGN

8/10 "A stunning display of cause and effect" - Gamespot

8/10 "it's hard not to cackle with glee after watching yet another base bloom into a fiery blossom" - Game Informer

8/10 "lives up to the series' standard of high quality explosiveness by exhibiting just how a sandbox game should operate" - EGM

8/10 "A memorable game that's hard not to like and recommend to others" - Destructoid
Bavarium Sea Heist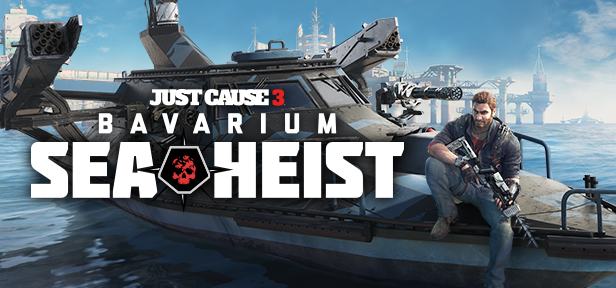 Just Cause 3: Bavarium Sea Heist is available now!
MECH LAND ASSAULT


Just Cause 3: Mech Land Assault is available now!
SKY FORTRESS


Just Cause 3: Sky Fortress is available now!

Download the Expansion Pass today and receive the PDLC packs 7 days early.
About the Game
https://store.steampowered.com/app/680420/OUTRIDERS/
The Mediterranean republic of Medici is suffering under the brutal control of General Di Ravello, a dictator with an insatiable appetite for power. Enter Rico Rodriguez, a man on a mission to destroy the General's hold on power by any means necessary. With over 400 square miles of complete freedom from sky to seabed and a huge arsenal of weaponry, gadgets and vehicles, prepare to unleash chaos in the most creative and explosive ways you can imagine.
FEATURES:
Explore a Mediterranean island paradise with complete vertical freedom – skydive, BASE jump and free dive in an open world with virtually zero limits

Glide through the air and swoop across mountains with your Wingsuit giving a new way to rain death from above

Use your Grapple and Parachute to scale buildings, hijack vehicles, move quickly or tether objects together for creative new ways to cause Chaos.

Cause massive chains of destruction in military bases, harbours, prisons, police stations and communications facilities to bring down a dictator

Arm yourself with a wide range of explosive weaponry from shotguns and missile launchers to tank-busters and air-strikes

Choose from a huge variety of different vehicles to drive including speedboats, jets, helicopters, turbo-fuelled sports cars and super bikes

Get adventurous with dozens of challenge missions and collectibles to discover

Online community features