DESCRIPTION:
Underhero
is a 2D side-scroller RPG adventure game with turn-based combat… without the turns! Precisely timed actions are your most powerful weapons. It tells an intriguing and mysterious story, full of silly characters brimming with personality, quirky dialogue, and lots of weird humor.
STORY:
Inspired by Paper Mario and other Nintendo RPGs. It tells the story of a world where the chosen hero has failed and an underling of the main villain takes his place as the new "hero".
Join Elizabeth IV and the little Masked Kid as they journey across the Chestnut Kingdom to defeat your evil boss, Mr. Stitches! Meet friends, foes and other weird characters in the mysterious world of Underhero.
FEATURES:
Turn-based combat with a twist: there are no turns! Use your reflexes to evade, and your timing to attack or parry! We call it timing-based combat.

A sidescrolling RPG adventure full of beautiful pixel art and cartoony aesthetics.

A wonderful original soundtrack composed by Stijn van Wakeren.

Enemies consider you their ally, so talk to them in-battles for tips, jokes, and lore!

Hit enemies with the beat of the music for Groovy~ critical hits!

Explore worlds sprinkled with many hidden secrets.

Fun and intense boss battles!

A story shrouded in mystery, with many twists and turns…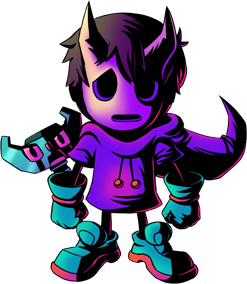 **Seizure Warning**
Certain moments in the game contain flashing lights and/or imagery that may cause discomfort or seizures for those with photosensitive epilepsy.