Popup Dungeon is a tactical roguelike RPG inspired by our favorite tabletop games. Make your own abilities, items, heroes, villains, and games easier than ever before. Create and share anything you can imagine.
Key Features
Out of the Box: 1500+ abilities, 420+ items, 200+ fully-voiced enemies, 36 playable characters

Games included: Branching story-driven campaigns, gameplay-focused runs, and the 25 campaigns of The Wizard's Tower

Endless Content: Lots of games have procedural content, but Popup's easy-to-use creation systems allow for limitless handcrafted content. Just hit the download button!

Game Creation: Tie nodes together to create your own games; from classic RPG adventures to grueling dungeon crawls and dating simulators, you can do it all, no programming knowledge necessary!

Persistent Gains: Collect and combine charms to power up your party and climb higher than before.
The enigmatic Wizard, voiced by John de Lancie, has challenged humanity to a duel of creativity. But to defeat him, first you'll have to climb his tower: 25 campaigns of ever-increasing difficulty that will take you from the depths of dungeons to the furthest reaches of space and everything in between.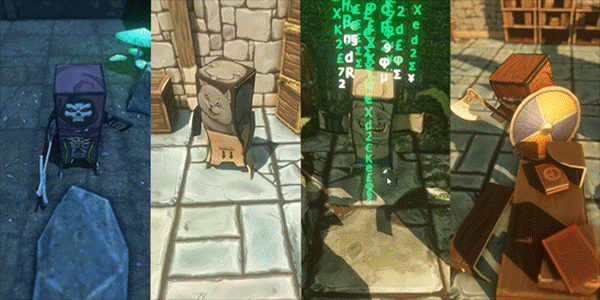 Additional Information
Creation Systems: Popup turns game design into a game. Turn your pictures into 3D cutouts to use as enemies and equipment, clip and fade sounds in engine, add your own images to ability cards, everything you create is automatically balanced and the AI is handled for you.
Dungeon Master: Try on The Wizard's hat. Create your own adventures and take control of the enemies.

Flexible Party Size: The dungeon can be challenged with 1 to 5 characters at a time.

Sandbox-like: Create and add Modes to any game you've beaten to randomize enemies, add companions, grant abilities, go hardcore, or customize your experience in any way you'd like!

Additional Tile Sets: Go beyond the dungeon! Explore Star Ships, Haunted Houses, Deserts, Japanese Villages and Castles, Steampunk Airships, Post-Apocalyptic landscapes, and more...

Great for Remote Play: Multiplayer is handled through Steam's Remote Play. The turn-based nature of the game makes it a great fit, and we've added gold codes at the end of run so all participants are rewarded. However, full multiplayer integration is a top long-term goal.

Accessible Game Play: Very easy to play, deviously hard to master.

Interactable Props: From Treasure Chests to Vendi-Machines, discover props and secrets that will help shape the course of your crawl. Custom interactables coming soon!