NEW CLASS COMING SOON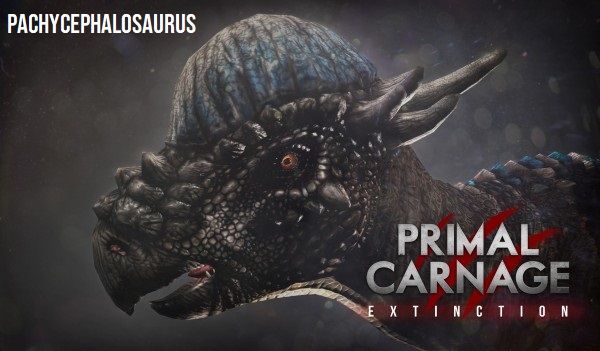 About the Game
DINOSAURS ARE BACK !
Resurrected from extinction on a remote island, dinosaurs have escaped to wreak havoc! An elite mercenary team is dispatched to remove the threat, but these lizards won't go down without a fight. The stage is set for the ultimate showdown.
Will you eliminate the humans intruding on your territory, or make these bloodthirsty beasts extinct for the second time...?
BIGGER. BETTER. MORE TEETH.
Primal Carnage: Extinction
evolves dinosaur combat to the next level with brand new species, new game modes & dangerous maps! Experience overhauled mechanics and rich customization, with new features still being added.
Join us on Discord
to stay in the loop!
ROAR POWER!

Take control of the deadliest predators in prehistory! Play as one of 11 distinct dinosaur classes, from sneaky Spitters to towering Tyrants, all ruthless and very hungry. Each species has unique traits and attacks, let loose your roar ability to give or receive special buffs!
NOT JUST A WALK IN THE PARK.

To survive against these deadly dinosaurs, the mercenary team has a wide arsenal of devastating weaponry & gadgets. Choose from 5 distinct human classes, each with their own special utilities. Stick together, stay alert, or be eaten!
RUMBLE IN THE JUNGLE
Wage over the top prehistoric warfare across a variety of environments, ranging from lush tropical jungles, to perilous mountaintops and abandoned labs. With blizzards, lava and acid pits to contend with, you'll have more than guns and teeth to worry about.
CHOOSE YOUR MISSION

Fight to the top of the food chain in Team Deathmatch.

Work together to reach rescue, or ensure the humans never leave the island in the objective-based Get to the Chopper.

Challenge yourself to a never-ending onslaught of AI dinosaurs in Survival co-op.

Stalk the humans as an invisible raptor or band together to take it down in Hunt mode.

Steal eggs from dinosaur nests or protect your unhatched babies in Capture The Egg.

Run wild in the highly customizable FreeRoam game type.
165 MILLION YEARS OF FASHION
Make sure your dino or merc looks their best! Obtain a variety of cosmetics through the in-game store, drop system, or
Steam Marketplace
. Ranked matches award Extinction Points (EXP) that go towards levelling up and unlocking new item drops.
Creators can even use
Steam Workshop
to submit skins and maps for a chance at being officially added to the game!