Feature List
Slow down time at will with the Time Buffer.

Decimate enemies with well timed bombs.

Chain together kills for massive combos.

Battle against your friends scores with the online leaderboards.

Crunch Time – 3 minutes of intense action every time.

Level up and defeat the fearsome Cubes to extend your time in Rush.

Survival mode - 3 Lives and more baddies than you can eat but watch out for ambushes!

Bombing Run is all about the Boom. No guns but lots and lots of Boom. BOOM!

Challenge mode puts your skills to the test with 20 levels and only 30 seconds each – Try and 5-Star them all.

Feel the adrenaline pump with only 5 seconds to live in Chase.

Your Weapons are Useless! Unless you stand your ground in Hold.
About the Game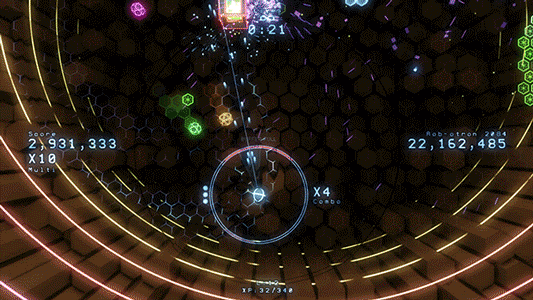 Waves is a twin-stick shooter that can be played by anyone, but with a high enough skill threshold to keep even the most hardened shooter fan entertained.
Set in a Neo-Cyberspace arena your system is being overrun by bugs, errors, and viruses. The only solution is to kill every rogue process before it kills you!
Clear the arena of enemies while racking up a big fat Combo with swift kills and well-timed Bombs. If it all gets a bit too much you can use your Time Buffer to slow down the action and turn defeat into victory. Players can compete across seven different game modes with online high-score tables and Achievements in their pursuit of twin-stick perfection.