Full Metal Mode Now Available for Free


Valfaris launched as a modern take on the challenging experiences of gaming's past. But, was it hard enough? We introduce Valfaris - Full Metal Mode! A New Game + variant that unlocks after completing the game once! Restart the game with your entire arsenal, maintaining all upgrades from the previous run. Which is good, as all enemy stats and aggressions have been juiced to the next level. Experience deadlier difficulty, deadlier firepower, deadlier boss fights!

Update Notes

All weapons, upgrades, and upgrade items carry over between runs

Enemies have increased health, attack, and aggression

Bosses receive the same buffs - with additional attack patterns

Therion takes more damage

New Destroyer Class Weapon

New Achievement for defeating Full Metal Mode
Can you rip the galaxy another wormhole?
About the Game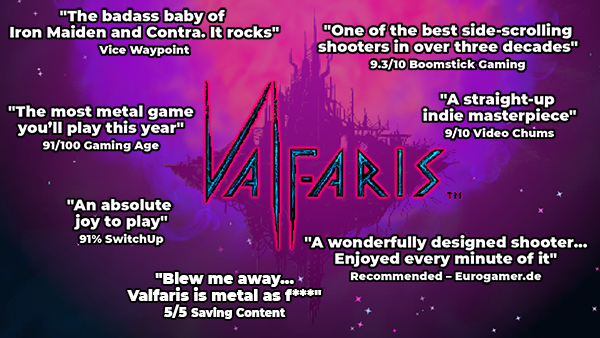 Recently Updated - Full Metal Mode
Valfaris's take on New Game +. Restart with your entire collected arsenal and upgrades to face off against more difficult enemies, battle buffed bosses encounters, and seek out the new Destroyer class weapon!
After mysteriously vanishing from galactic charts, the fortress of Valfaris has suddenly reappeared in the orbit of a dying sun. Once a self-contained paradise, the grandiose citadel now plays host to an ever-growing darkness.
Therion, a fearless and proud son of Valfaris, returns to his home to uncover the truth of its doomed fate and to challenge the arcane evil at its very heart.
Key Features
Skulls in space! Gore in space! Metal in space!

Savagely reduce foes to piles of gibs with an array of brutal weaponry

Explore a diverse range of tainted environments as you venture ever deeper into the dark world of Valfaris

Dominate ranks of deadly enemies and bosses, from the weird to the grotesque (and some that are just grotesquely weird)

Gorge your eyes on devastatingly awesome pixel art hand-crafted by Andrew Gilmour

Feel the power of a seismic soundtrack by extreme metaller and former Celtic Frost guitarist, Curt Victor Bryant

Forged from the ground-up by the team behind cult hit Slain: Back From Hell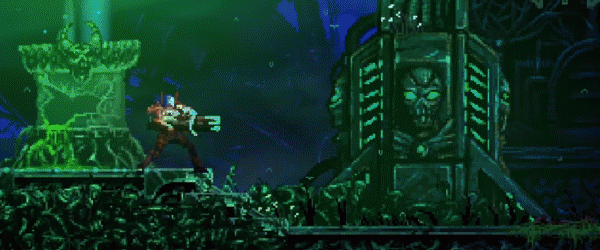 Valfaris Digital Deluxe Edition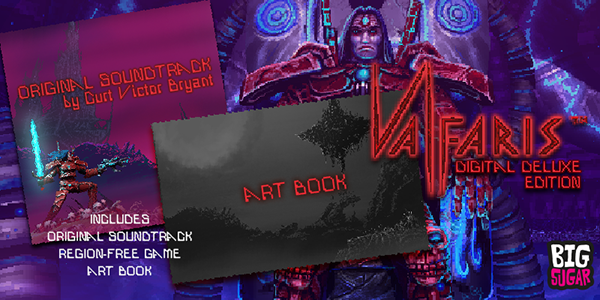 In addition to the full game, the Valfaris Digital Deluxe Edition includes the following content:
Valfaris - Digital OST
Composed and recorded by former Celtic Frost guitarist Curt Victor Bryant, enjoy the savage sounds of Valfaris. The OST includes 20 original tracks.
Valfaris - Digital Artbook
From concept sketches to final in-game imagery, this collection showcases the work of Valfaris developer Steel Mantis, a two-man team comprised of Andrew Gilmour (artist and designer) and Thomas Jenns (programmer and designer). Get a closer look at weapon, enemy, and environment art, as well as previously unseen – and unused! – designs.
Get ready to rip the galaxy a new wormhole!