Outnumbered and outgunned in deep space? No problem! Turn your enemies' attacks into pure bullet heaven with your advanced Schildmaid technology and start collecting dangerous projectiles to power up your ship and score big! But when your shield runs out and danger time kicks in, you better switch up your strategy fast...
Schildmaid MX is a fresh, new and shiny 2D shoot 'em up in which you pick 1 of 3 ferocious space fighter crafts to wreak havoc on the invasion fleet that threatens your planet. Embark on multiple attack runs and put fear in the hearts of the enemy. The best pilots are immortalized on the online leaderboards!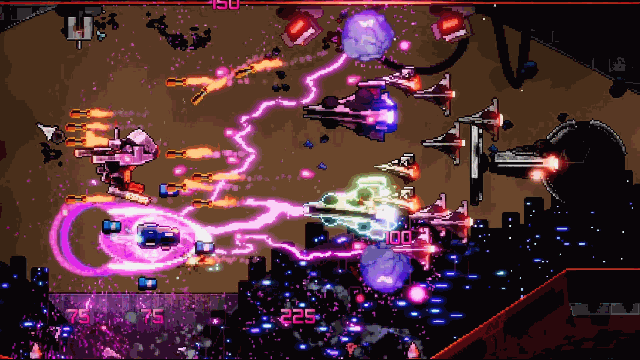 Schildmaid MX features:
delicious bullet absorbing scoring mechanics;
a friendly difficulty curve for beginners in Jaeger Mode;
instant action and a frantic challenge for veteran shmup players in Krieger Mode;
a true endless survival gauntlet for the most die hard players in Chimera Mode;
a short and seriously spicy playthrough that tests your mastery of the game's mechanics in Sieger Mode;
multiple secret boss fights that activate via specific player actions and achievements;
3 selectable ships;
numerous loops that progressively introduce new enemies and situations across all game modes;
more than 40 handcrafted stages, spread out over the different game modes;
automatically saved checkpoints after each cleared stage in Jaeger Mode
online leaderboards;
unlockable in-game achievements and titles for your player profile;
amazingly catchy OST by Ed Tremblay of Studio Mudprints;
optional proper CRT display emulation for a beautiful, nostalgic look.
Follow us on Twitter @HitPStudio and join the community on Discord.

Minimum required system specs:

Dual core CPU
Intel HD 4000 integrated GPU
4 GB RAM
Recommended system specs:
Quad core CPU
Dedicated GPU (GTX/Radeon)
8 GB RAM
OS requirements:

Up to date Windows/macOS/Linux (tested on Ubuntu)