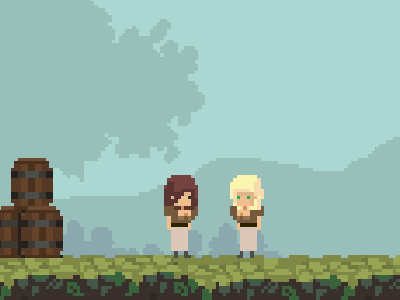 Fluffy Horde is a 2D side-scrolling hybrid between real-time strategy and tower defense. The game revolves around a magical hyper-breeding bunny horde created by a misunderstood Shaman wanderer. After having a dwelling denied in all three kingdoms, the Shaman is willing to take over all of them by force. Can you stop the Fluffy Horde?
FEATURES
A unique strategy experience. Age of Empires and Warcraft got nothing on us. Starcraft 2 is slightly better...

Mesmerizing Pixel art that will cure your eyes of myopia.

Over 100 cities to free and 400 badges to conquer.

Multiplayer mode so you can outsmart your friends and strangers over the internet. Or be outsmarted by them, maybe you are not that bright.

4 bosses to fight and hours of addicting gameplay.

Arrogant elves that "are much better than humans", according to them. Underground people are cool, though.

Awesome voice-over that will make you pee on your pants. Wear double underwear for a better experience.

Bunnies. We got 2,0309,894,859.483,495.8Y9,348,530,834 of them and counting...

Music made by God. We've got God on our team, that's right! Who have you got?
"Kalendra went mad starting a civil war in the elf world."
King Kellor

"Knell before me silly humans!"
Shaman